The Best Christmas VPN Deals You've Been Waiting For 2023
Besides Black Friday and Cyber Monday, the Christmas season ushers in the biggest discounts on VPN services! Christmas is just around the corner – you still have time to buy a nice gift for your loved ones (or yourself). Moreover, in this day and age of cybercrime and privacy concerns, a VPN can be a valuable gift, too.
We have listed the best Christmas VPN deals available this year to make your life easier. So, grab your favorite drink, check out the discount list, and make it your New Year's resolution to protect your online privacy.
---
Best Christmas VPN Deals For 2023
Below you can read about the best Christmas VPN deals of 2023. It does not matter which VPN you choose based on the quality or the discount itself – there are no wrong choices here! However, we strongly recommend ExpressVPN.
---
If you're looking for the fastest one, it's impossible to find a better VPN service than ExpressVPN. It has been around for quite some time and has earned its reputation.
Aside from 24/7 support, ExpressVPN also offers 3000+ servers, super-fast speeds, zero-knowledge DNS, split tunneling, and many other features. With ExpressVPN, you can do it all.
ExpressVPN is one of the best Hulu VPNs and also works perfectly with other popular streaming platforms such as Netflix, Disney Plus, ESPN+, and more for you to enjoy during Christmas.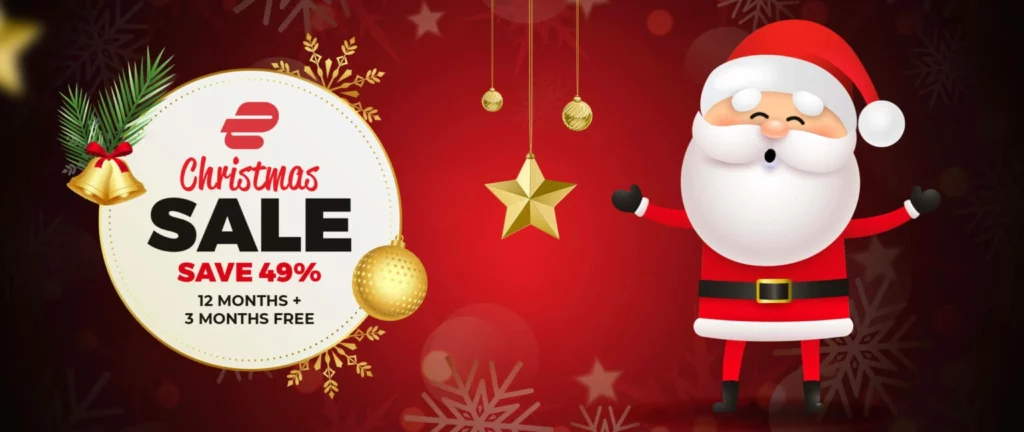 The ExpressVPN client is also one of the most sought-after and refined cross-platform clients, including Android, iOS (iPhone & iPad), Linux, Mac, Windows, and many others. User-friendliness and performance are simply amazing. However, the best thing about ExpressVPN at the moment is its price.
ExpressVPN is offering a substantial 35% discount on its 12 months plan for the holiday season. With a 12-month plan, you can save 35% and get a 30-day free trial of ExpressVPN for $8.32/mo, normally priced at $12.95 per month.
---
---
2. Surfshark Christmas VPN Deals
Many VPN providers offer crazy discounts this holiday season, but none offer discounts like Surfshark.
With less crowded servers, it offers better speeds and performance. This results in lag-free streaming and instant connections.
You'll be more than satisfied with Surfshark, whether you're looking to stream Netflix or download torrents.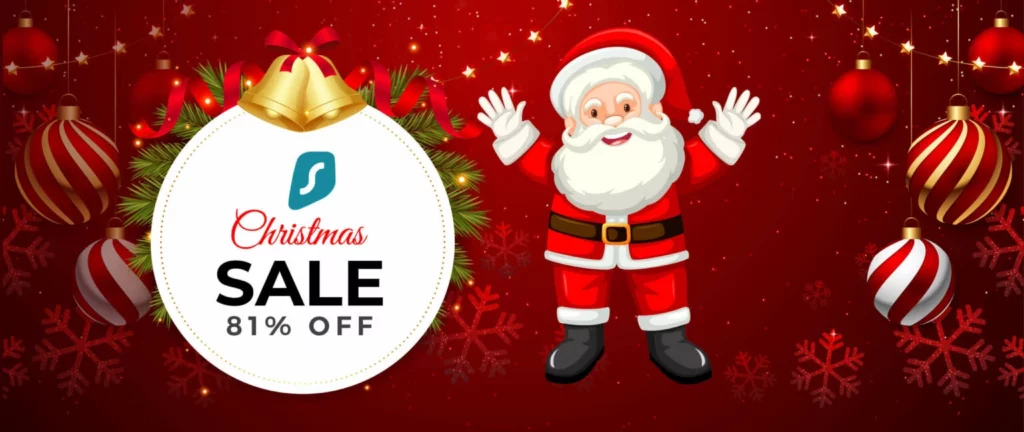 In terms of servers, they are also pretty well stacked. Currently, they are offering 3200+ servers in 63 countries around the world.
Surfshark provides the most outrageous discounts in the entire industry. You can avail of a staggering 81% Off on their 24 + 3 months free plan. In addition, you can get their world-class service for only $2.30/mo (Save 81% on 2 Years + 2 Months Free Plan with Surfshark Antivirus).
Surfshark offers a free trial if you don't want to buy it before testing.
---
---
3. NordVPN Christmas VPN Deals
NordVPN, the king of VPN servers, is the industry's biggest, most well-renowned VPN provider.
This VPN offers thousands of servers worldwide, making it the best choice for gamers, streaming, and overall privacy.
Being one of the best in the industry, you might think NordVPN would be expensive, right? But, unfortunately, you'd be wrong there.
With NordVPN's 2 years + 3 months free plan, you can get 70% Off during the holiday season. This plan has an extremely low price of $3.99/mo (Save 70% on 2 Years Plan + Extra Subscription). For a powerful VPN like NordVPN, this price is the best deal around.
---
---
FAQs on Christmas VPN Deals
---
Are these Christmas VPN deals still valid?
Yes, all Christmas VPN deals are regularly updated so that you won't come across an expired one. Just click on your favorite VPN, and you'll be redirected to the official discount page of the tool.
---
How much money can I save with a Christmas VPN deal?
You can save a lot of money with any VPN deals on this page. Most deals will help you save more than 70% of the original price.
---
How long do Christmas sales last?
Typically, Christmas sales begin about a week or two before Christmas and end shortly after the New Year. However, some VPN providers choose to keep the deals throughout all of January.
---
Conclusion
Christmas is the best time of the year to avail of amazing discounts on all sorts of amazing consumer products, including VPNs.
It is also your last chance to get a good deal on VPNs. We've covered the best Christmas VPN deals for renowned providers.
If you act now, you can avail of a staggering 70% discount this holiday season. So what are you waiting for? Grab yourself a VPN right now.
Stop Surfing Anymore! Check Out Our Best VPN Deals On Black Friday & Cyber Monday.