Most Useful Hulu Tips and Tricks to Stream Like a Pro in 2023
Are you a true Hulu lover? And wondering how do I get the most out of Hulu? Then, you have come to the right place. No doubt, Hulu has some amazing content. However, besides its binge-worthy content, Hulu offers some amazing features that make your experience more convenient and enjoyable.
In order to make your streaming experience more enjoyable, we have compiled some of the best Hulu tips and tricks. These tips will make your life a lot easier while streaming Hulu content if you want to access Hulu in Mexico, Hulu in Philippines, Hulu in Ireland, Hulu in Australia, Hulu in UK, or Hulu outside USA from anywhere.
So, without further ado, let's dive into the most useful Hulu tips and tricks that let you stream like a pro.
---
Best Hulu Tips and Tricks in 2023
Sign up and Subscribe to ExpressVPN.
Log in to the VPN app and connect to a server in the US.
That's it, Now visit the Hulu Website/App and enjoy streaming.
---
Most Useful Hulu Tips and Tricks in 2023
With the help of these tips and tricks, you can take your streaming game to the next level. We researched and picked out some of the smartest Hulu tips and tricks you should know about. So let's check out the best Hulu tips and tricks described below:
---
1. Protect Your Privacy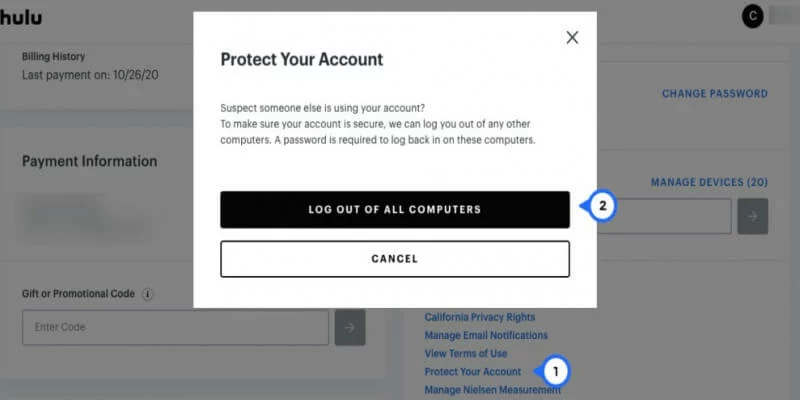 Have you left your Hulu account active on your friend's phone or work computer? Or are you concerned about someone accessing your Hulu Account without your knowledge? You don't need to worry about it. Just follow the steps below to level up your Hulu account privacy:
Click on the "Account" tab.
Then select "Privacy and Settings."
Now you will see the "Protect Your Account" dialogue box.
Finally, select the "Log out of all computers." option.
After this, anyone who wants to sign in will need a password set by you.
Aside from that, if you are interested in additional privacy protection, we highly recommend you subscribe to a top-notch streaming VPN service such as ExpressVPN. In this way, you will enjoy additional privacy protection.
---
2. Control Hulu From Virtually Anywhere
Do you ever end up losing your TV remote in the infinite abyss, aka the crevasses of your couch? If so, you will find this Hulu tip useful. There is a feature in the Hulu mobile app that enables you to use your smartphone as a remote for your TV.
But there is a catch. Hulu remote feature only works with Chromecast or AirPlay. Hence, you need either an Apple device or one with Android TV.
You can also use a lighting cable to connect your iPhone or iPad to the TV. In addition, Apple's all-new EarPods have made it much easier to use Hulu on your TV screen using Siri since you can use them as a remote and a remote to control the service.
---
3. Customize Your Hulu Profile
Do you like to keep things organized and in order? If so, then this Hulu tip is just right for you. The profile customization feature on Hulu is one of the most underrated features. Unfortunately, many people think it's only for setting yourself apart from everyone. In actuality, it can be used for much more.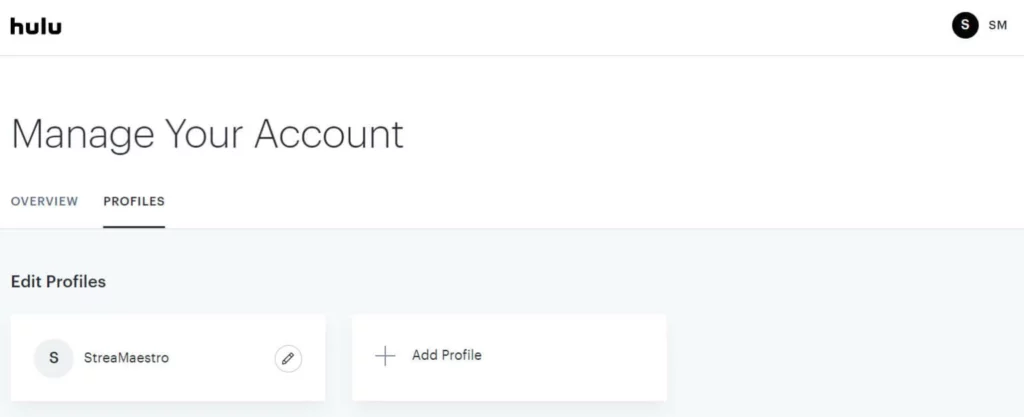 Customizing your profile allows you to select what to put in your My Stuff. Doing this allows you to organize your profile and eliminate the content you don't like. When used with a subscription that allows multiple users, this makes things much simpler.
---
4. Avoid Paying For Hulu While You're Away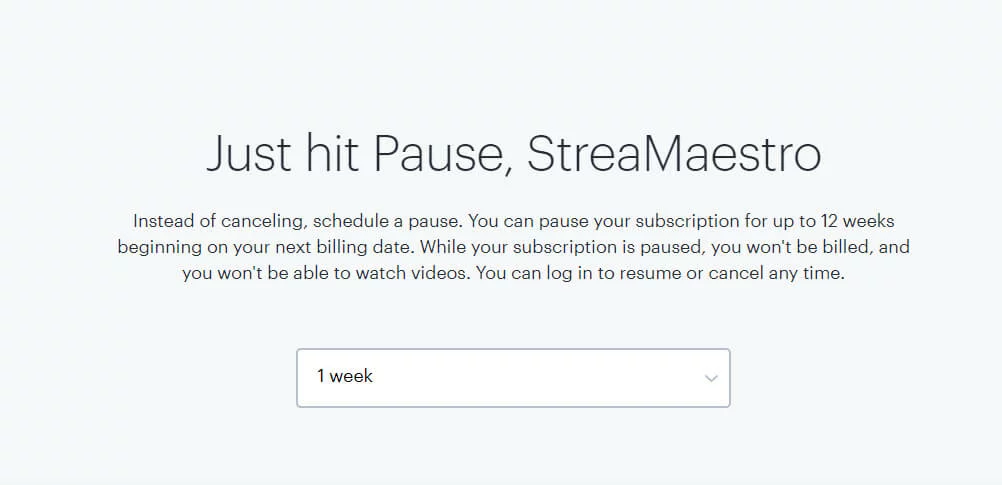 Are you waiting for your favorite movie or show to come out? Or is there nothing interesting to watch on Hulu at the moment? If so, what's the point of paying for a Hulu monthly subscription? Here is one more Hulu tip: put your subscription on pause whenever you are not using it. That way, you won't get charged for it during this time.
---
5. Never Miss Out On Your Favorite Shows
This tip will help you keep track of all the TV shows and movies you enjoy on Hulu. By doing so, you won't miss out on your favorite Hulu content. So this tip is for all of you who are worried about spoilers and want to see their shows first.
Add a show to your Favorites, and Hulu will handle everything from there. Your Watch List will automatically update when a new episode airs on Hulu. Afterward, you can click on the episode on the home screen and enjoy it even if you want to access Hulu in Jamaica, Hulu in Finland, or Hulu in Hungary.
---
6. Earn With Hulu Rewards
All Hulu users can take advantage of its reward system. Go to the settings and sign up for Hulu's referral program. Once you sign up, you can invite your friends.
You will receive a $10 referral bonus when someone you refer becomes a premium user and uses Hulu for two months or more using your referral link.
---
7. Using an Advanced Video Search Filter
A great part of Hulu's search engine is that it lets you filter results in great detail. So even though the menu is a bit difficult to navigate, once you get there, you can experience Hulu's true diversity of video content.
If you want to access the Advanced Video Search option, search for whatever you want in the search bar. Advanced Video Search is written in a small font in the top right corner of the search results. Using this option, you can search by phrase, actor, director, TV season, episode number, genre, network, and other criteria.
---
8. Use Hulu Parental Controls
If you are a parent, you should always be on the lookout for R-rated movies and TV shows on Hulu. But here's another great way to find R-rated programs on the site. All mature content on Hulu is restricted when the Kids Mode option is enabled.
Simply create a New Profile and set the Kids Mode to On. Next, select an age limit on your profile, and any content that exceeds that limit will be blocked. And there you have it, another worry out of the way!
---
9. Host A Virtual Party on Hulu
One of the surprising things we learned during the lockdowns was that you could socialize and be with friends while staying home. In other words, if you miss the times you watch shows with your friends, you can do it on Hulu. With this amazing feature, you can invite your friends to watch TV with you while hosting a virtual party.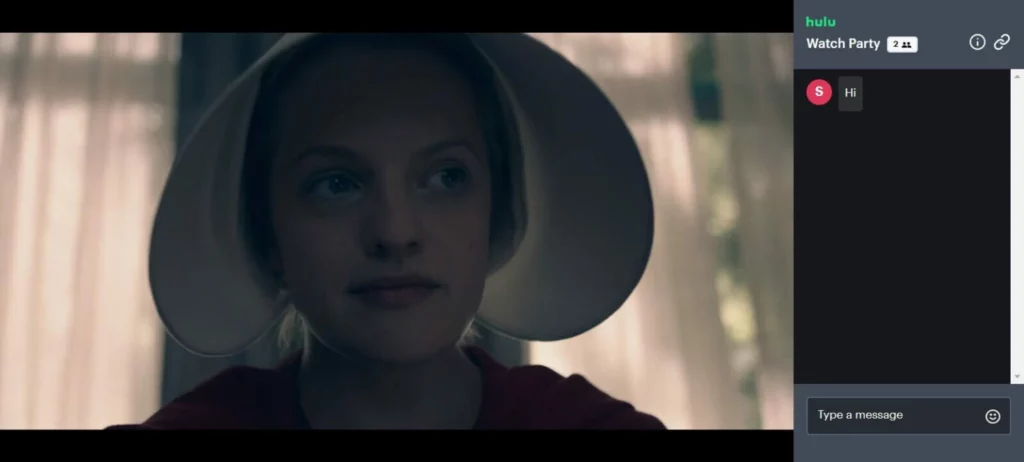 While looking at the details of a title, including trailers and episodes, Hulu users can now create a virtual party. To host a watch party, you can invite up to eight people who must be registered with Hulu.
---
10. Now You Can Access Hulu Outside The USA
You likely already know that Hulu is limited to users in the United States only. Therefore, you cannot access Hulu if you live outside of the US. However, because of this Hulu Location Trick, now you can easily bypass this geo-restrictions and access Hulu from any country.
All you need is a VPN that lets you change your location. Therefore, no matter where you are located, you can use a VPN to access Hulu without trouble. We highly recommend ExpressVPN.
---
11. Customize The Subtitles on Hulu
Hulu features content from all over the world. Therefore, you may have to rely on subtitles when watching foreign films and TV shows. Unfortunately, we all know how annoying they can be, especially when there is no way to control them.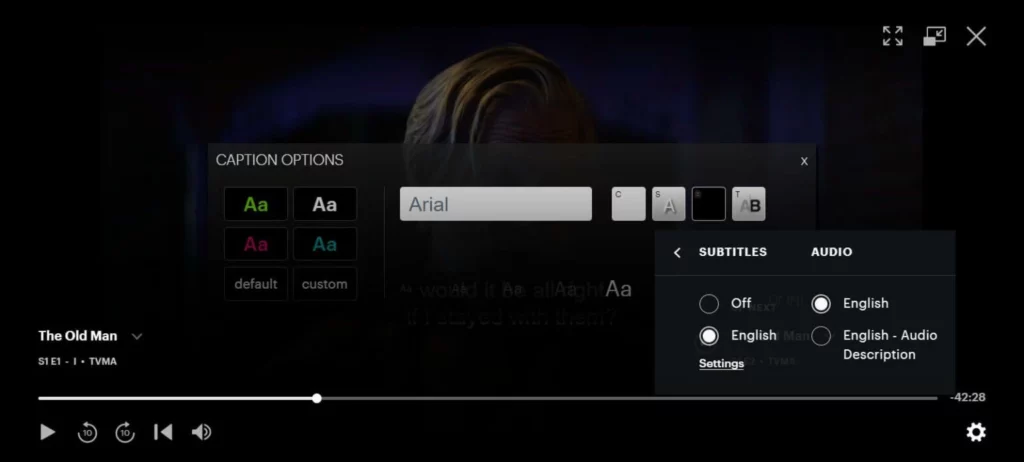 Regarding subtitles, Hulu lets you customize everything from the font size to the subtitle color of its subtitles. Therefore, those pesky, random subtitles will no longer be an issue. Instead, you can change them according to your preference and enjoy your favorite content.
---
12. Download Your Favorite Hulu Content
We all know that when we are on a road trip or on the go, we don't have access to the Internet all the time. But with this Hulu trick, you can enjoy your journey with so much fun. You only need a subscription to an ad-free Hulu subscription package to access this feature.
Hulu does not offer all of its content for offline viewing, but on Hulu's mobile app, you can easily search for downloadable content by selecting the "Downloadable" category. You can download up to 25 titles across five different devices at any given time, but each download expires after 30 days.
---
FAQs on Hulu Tips and Tricks
---
How can I maintain my list of favorite Hulu videos?
You can organize and save your favorite videos in the "My Stuff" section. It's your unique personal space on the Hulu app, where you can save your favorite shows, movies, and much more.
---
How to get the best value out of Hulu?
The following are some of our favorite Hulu Tips and Tricks for getting the best value out of Hulu.
Use a reliable VPN to access Hulu outside the US, such as ExpressVPN.
Enabled the "Kids Mode" to filter for adult content.
You can organize and personalize your viewing experience.
Enjoy your favorite video content and save it in "My Stuff" for a better experience.
---
Can Hulu be used while traveling?
You can watch Hulu while traveling within the United States. However, if you are traveling outside the USA. Then, you must use a premium VPN service such as ExpressVPN and connect to its US server to watch Hulu outside the USA.
---
Does Hulu have a secret menu?
Currently, Hulu doesn't have any secret or hidden menu. But you can use the above Hulu Tips and Tricks to get the most out of your Hulu subscription.
---
The Bottom Line
Currently, Hulu is one of the most popular and preferred streaming services. The company has been updating and expanding its service for over a decade. So no matter what you watch on Hulu, you can always count on a vast library, and a user interface that's always improving.
The above is all we could dig up about Hulu Tips and Tricks. We hope now you can enjoy your Hulu content in a much better way. However, the streaming service constantly adds new features and accessibility options. So, if you know of a new feature that's recently been added or a tip that'll be beneficial to other people, please share it with us in the comments.
---
Read More: